Over the next few day's truebluecougars is going to be doing a series of articles outlining BYU's future quarterbacks. We will try to take a few moments to cover each player, tell about his back ground. And show some of the players strengths and weaknesses. The four quarterbacks covered will be, Ammon Olsen, McCoy Hill, Taysom Hill and Tanner Mangum.

Tanner Mangum
Did we save the best for last? Maybe. Tanner has done nothing but impress the last week or so. He has had several articles written about his performance at the '7on' tournament presented by Nike. He's quite quickly becoming a household name - being the latest talk on ESPN, Sports Illustrated, and CBS Sports will do that to you. It sounds like Tanner has earned every bit of his ink.
The funny thing is that from reading the articles you would think Tanner came out of nowhere. However, every university in the Northwest knows exactly who Tanner Mangum is. All it took is starting for Timberline High School as a freshman and throwing for 2,900 yards, 28 TD's and only 8 Int's. Not bad for a kid that legally couldn't drive in Idaho at the beginning of the season.
Having watched Tanner last week, Tom Luginbill of ESPN is quoted saying, "He has really seen his stock rise in our eyes this week with an accurate and efficient showing." He continued to say, "He is a late bloomer with good size, more than adequate arm strength, and a nice feel for timing and ball placement. He has a great feel for changing ball speeds depending on the throw and [he has] the touch to lay the ball into tight spots in coverage on down field throws." He concluded, adding, "What really impressed us is his accuracy throwing on the move. He is a perfect fit for BYU's offense and should blossom nicely."
So why don't more people know about Mangum? Some of it has to do with playing on the outskirts of Boise Idaho. But most blame can be placed on his junior season. Tanner started out on a tear, beginning the season going 23 of 28 for 417 yards and throwing 5 touchdowns. That was in the first 5 quarters of play. Unfortunately for Tanner, he then broke his collarbone on his throwing shoulder and took most of the season off to repair. He now claims to have more strength in the shoulder.
A few schools stayed with Tanner throughout the injury - namely, Boise St and BYU. Boise has been as aggressive in their recruitment as anyone but BYU also continued to recruit, and, after offering a scholarship to Tanner, it didn't take him long to accept. Of course, it doesn't hurt that Tanner is LDS, nor did it hurt that Tanner's older brother, Parker, played for BYU. Additionally, BYU is Tanner's favorite team, and are willing to hold a scholarship for him during his LDS mission. The plan is for Mangum to go straight out on a mission and not enroll at BYU until after his mission is completed.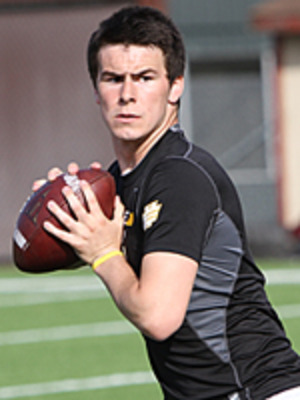 We agree with Luginbill in his assessment of Mangum. Like Jake Heaps was last year, we feel like his body type is not quite ready for division one football, but his frame should be able to fill out over then next few years. Tanner has very good vision and seems to make the right decision quickly. He has the best pocket presence and does really well at avoiding the rush without scrambling. We feel like his arm strength is better than noted by Luginbill. In his film you can see that he can throw the ball 40-50 yards without his feet set under him. Impressive.
Tanner Mangum could use some tightening up of his motion, but overall he has good mechanics. He's gotten in the bad habit of throwing off his back foot and, because of his arm strength, he's gotten away with that. I don't doubt that that's one thing Doman will work on first when he gets to Provo.
The next few days are going to be fun for fans of Tanner. Like Jake Heaps, he's been invited to the Elite 11 Camp in Pepperdine. The country's 'who's who' of high school quarterbacks. Cougar fans are hoping for a repeat of what Jake Heaps was able to do at that camp. He was named the most outstanding quarterback at the camp. And was promptly dubbed by many recruiting services as the nation's number one quarterback.